May has been such a busy month for me. I am still working full time but now only have 12 months left to go until I retire form my current job as a Learning and Development Consultant. So squeezing in time for my art has been a real challenge. It's meant working feverishly into the middle of the night, or up early in the mornings and most weekends, for several months now.
During May I have been busy working on the Healing Project for University Hospital Coventry and Warwickshire to create 5 pieces for the Radiology Department. Emma Linnane, Arts Officer, a really lovely woman, has been helping me consult with staff and patients and together we organised a couple of half days for me to go into the hospital and set up a table showing samples and sketchbook ideas and talking to staff and patients about what they would like to see incorporated into the work. It was such an extraordinary experience and despite patients waiting to with go into chemo or radiotherapy, people happily gave me their time and lots of very helpful and positive feedback and got involved in the whole concept.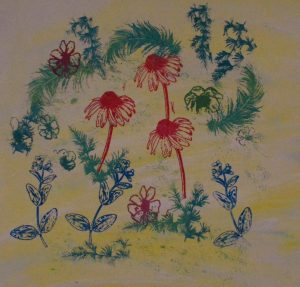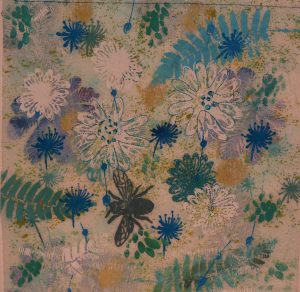 I have also been part of the organising committee for our local EG Branch for an exhibition celebrating 300 year anniversary of the landscape gardener,  Capability Brown at Charlecote Park, this show opens on 26th May, come and see us.This month I also gave two talks to two different Embroiderers Guilds at the  Hinckley Branch and Banbury and District Branch. This was a good opportunity to organise myself and my work and  update a Power Point presentation. Thinking about what I wanted to say definitely helped me to focus and consider aspects of my work in a more challenging way. I have  also been working on series of samples and little zigzag books both for Open Studios and for the talks and this has pushed me in different directions. using different printing and stitching techniques, bondaweb for building up colours and textures.
I have also been working to complete pieces for Open Studios which starts on  18th June, so not long to go and have been  experimenting, making more abstract pieces to extend my repertoire.
All in all its been a very hectic time., yesterday I took the day off to go with my daughter, Lotte to Daylesford Farm Summer festival , it rained and was bit chilly and muddy underfoot but that didn't stop us sampling a wonderful rhubarb prosecco and learning about bees, very unusual different sheep and cow breeds and purchasing some amazing bric a brac, galvanized planters, rusty metal star and woven twig wreaths. All great fun and relaxing!!!
Today I have been sorting through work for Open Studios, taking lots of photos and updating the website, in between enjoying cups of coffee,the balmy sunshine in the back garden. A much better day today.
Hits: 12