Phew nearly the end of the year, don't know where the last 12 months have gone. It's been so full of changes, I am still adjusting to it all. My partner and I both reached 65 and retired, within a few months of each other. He got there first and threw himself into a huge spring clean of the house, wow long may that energy last!!
We are loving our new life, suddenly freed up from full time employment and enjoying spending time doing our own thing. It still feels very new and exciting and  I hope that feeling never changes. I have to say I don't like the word retirement… all the wrong connotations, as if you're on the shelf and redundant whereas I am full of energy and so busy  spending a lot of time in the studio with  art  projects as well as working a few hours for a friend who has her own pottery business.
We spent the summer enjoying our garden and had a brand new kitchen fitted. We have been ever so sociable with lots of friends to stay,  getting all those cook books out and experimenting with dishes. The good man has taken to bread making and the house is full of lovely inviting aromas.
Our two daughters in the last year have finally flown the nest both of them having bought houses with boyfriends one in Nottingham and other in a village 20 minutes from Leamington so we have the house to ourselves. Already spreading my art across several rooms now. Yikes.
We have had lots of mini breaks down to the Cotswolds and Wales walking and exploring. All good fun as well as trips to London galleries , including visiting a wonderful Giacometti  exhibition at Tate Modern and Matisse in his Studio at the RA. I did a fab three day paper lamination course with Christine Chester which has given me lots of new ideas, just need to put it all into practice.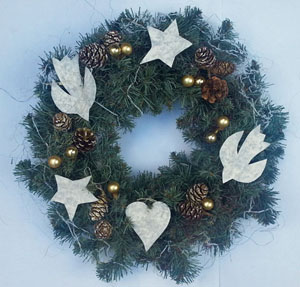 November looks set to be especially busy for me, I am running a Christmas Wreath Decorating course on Saturday 26th November at the Pump Room Gallery in the centre of Leamington. This will be my third year; it's great fun and I get the participants to make lovely textile, clay and metal decorations that are interchangeable and can be used every year.  Book a place here
This month an online tutorial I was commissioned to write  called  'Printing and Stitching a Picture' will go live on the web catch it at  www.workshopontheweb.com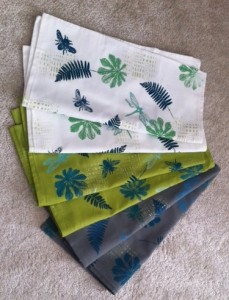 I am also doing the Gate Farm Christmas event on 27th November, a first for me so busy framing pictures, making more wreaths and Xmas stockings and screen printing up more of my cushions which seem to sell well.
Then at the beginning of December will be doing a Pop Up Gallery for the first three weekends of December so finishing off work and prepping for that.
It will be at Future Rabbit Studio. We will be open Saturdays 11-5pm; Sundays 11.-4pm 2nd – 3rd; 9th – 10th; 16th – 17th December.
I will be exhibiting with seven other artists, all very exciting. There will be painting, prints, paper collages, cut outs ceramics, textiles and jewelry. Come and visit us at 10 Grove Street, Leamington Spa.
More of that in my next blog!